Breakout Forecast Selections for Week 4:
This week I have selected two of the 8 breakout stocks to share from the subscription Breakout Portfolio. Healthcare biotechnology and technology stocks were the largest representation of breakout stocks in my screener for this week. Detailed charts for each stock are at the end of the article.
The new selections of positive momentum stocks for this week include:
Adaptimmune Therapeutics (ADAP) – Healthcare / Biotechnology
Agenus (AGEN) – Healthcare / Biotechnology
6 additional picks are available for members of Value & Momentum Breakouts. Full Charts and highlights follow at the end of the article.
Breakout Forecast Performance Results:
Total Breakout portfolio returns by week for the past 5 weeks (t-5) are listed below through the end of Week 1 to illustrate the rolling returns of prior top performers and total portfolio returns:
| | |
| --- | --- |
| Breakout Forecast | Portfolio gains past 5 weeks / Top 3 Performing Stocks |
| Week 3 (t-1) | +2.13% / (APTO) +23.79%, (INVE) +10.06%, (CLBS) +0.74% |
| Week 2 (t-2) | +2.79% / (KEM) +20.52%, (IDRA) +12.33%, (NH) +9.37% |
| Week 1 (t-3) | +14.88% / (GALT) +68.86%, (CVEO) +29.30%, (VCEL) +22.94% |
| Week 50 (t-5) | +3.46% / (XXII) +45.66%, (ADVM) +42.03%, (CLBS) +11.08% |
For those who are new to this short-term selection method I would highly recommend that you review the end of year performance summary and the links to methodology articles about how these high volatility, typical low cap, breakout selections work. Basically, I am trying to maximize the frequency of substantial positive returns using the parameters that resulted from my published doctoral research by focusing on the most volatile sector of stocks.
The following chart shows the cumulative return from a 1-Week holding period for the first three weekly breakout forecast reports of 2018.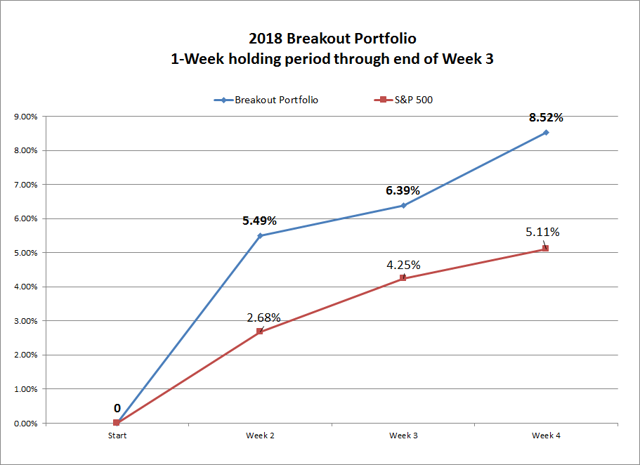 This second pair of charts shows the cumulative return from a 2-week holding period for the ODD and EVEN weekly breakout forecast reports of 2018. The current average weekly return from a 2-week holding period is +8.46%. It will become clearer as additional data points are added throughout the year. This will help provide some perspective on whether a 1-week or 2-week fixed holding period generates the best short term results.

The most recent weekly portfolio performance results by individual stock composition are reserved for subscribers. Here is the Week 1 Breakout Portfolio YTD results:
Results from Week 1 Breakout (3 weeks duration)
| | | | | | | |
| --- | --- | --- | --- | --- | --- | --- |
| No. | Ticker | Company | Price | Shares | Cost | Gain% |
| 1. | (VCEL) | Vericel Corporation | 6.70 | 2,294 | 5.45 | 22.94% |
| 2. | (GALT) | Galectin Therapeutics | 5.64 | 3,743 | 3.34 | 68.86% |
| 3. | (ADMA) | ADMA Biologics, Inc. | 3.54 | 3,894 | 3.21 | 10.28% |
| 4. | (GFN) | General Finance Corporation | 6.95 | 1,838 | 6.8 | 2.21% |
| 5. | (SNOA) | Sonoma Pharmaceuticals, Inc. | 5.39 | 2,294 | 5.45 | -1.14% |
| 6. | (CVEO) | Civeo Corporation | 3.53 | 4,579 | 2.73 | 29.30% |
| 7. | (AZRX) | AzurRx BioPharma | 3.34 | 3,434 | 3.64 | -8.24% |
| 8. | (VTVT) | vTv Therapeutics Inc. | 5.70 | 2,080 | 6.01 | -5.16% |
These stocks are not necessarily recommended for long term buy/hold unless you are comfortable with very large price swings. As I continue to observe, strong momentum events usually last from one to three weeks and may encounter some substantial decline before returning again to positive gains. These are the most volatile selections I offer from among all the portfolios.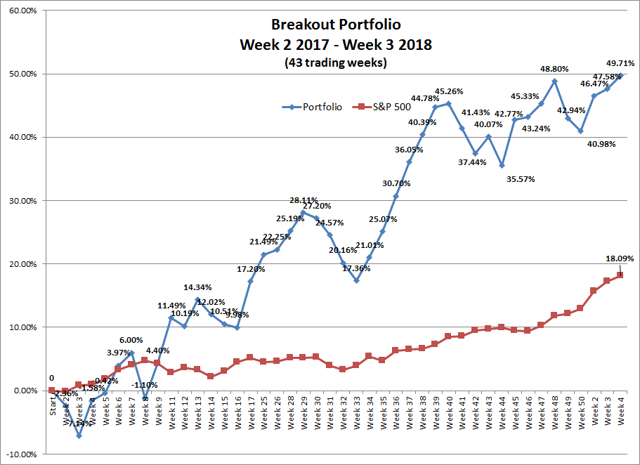 Proposed entry points for each of the selected stocks are as close to the highlighted prices in yellow on the charts at market open. All stocks are selected for high short-term breakout results over one to three weeks.
Breakout Stock Charts for Week 4
Pick #1: Adaptimmune Therapeutics (ADAP) – Healthcare / Biotechnology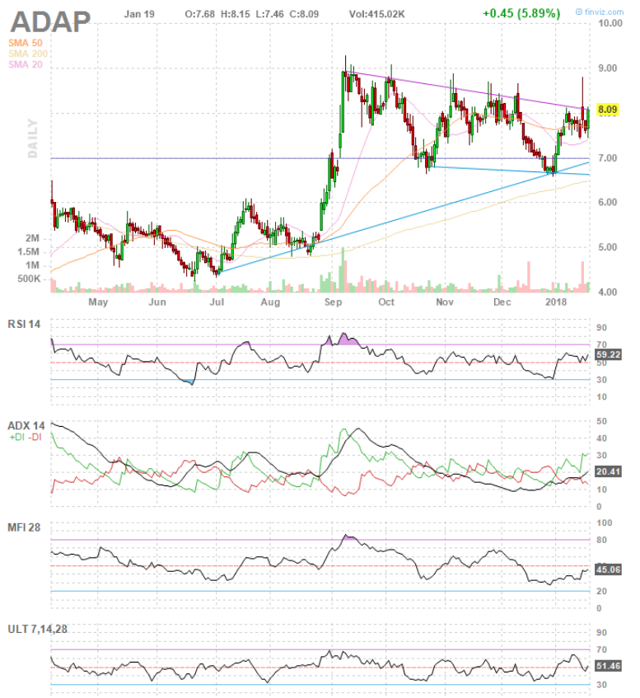 ADAP highlights:
1. Significantly positive signals in multiple technical breakout indicators
2. Sales Q/Q 1025.20%
3. EPS Q/Q 96.40%
4. Analyst Target Price 13.00
Adaptimmune Therapeutics plc, a clinical-stage biopharmaceutical company, focuses on the provision of cancer immunotherapy products based on its proprietary SPEAR T-cell platform. Its platform enables to identify cancer targets; find and genetically engineer T-cell receptors (TCR); and produce TCR therapeutic candidates for administration to patients. The company's lead program includes NY-ESO-1 and LAGE-1a cancer antigens, which are in Phase I/II clinical trials for patients with solid tumors, as well as hematological cancer types, including synovial sarcoma, multiple myeloma, non-small cell lung cancer (NSCLC), and ovarian cancer; and pilot trial for myxoid round cell liposarcoma. It is also developing MAGE A-10 peptide that is in Phase I/II clinical trials to treat urothelial (bladder), melanoma, and head and neck cancers, as well as NSCLC; AFP SPEAR T-cell therapeutic candidate that has completed preclinical testing for targeting a peptide associated with hepatocellular carcinoma; and MAGE-A4 to treat urothelial (bladder), melanoma, head and neck, esophageal and gastric, and ovarian cancer, as well as NSCLC. It has a strategic collaboration and licensing agreement with GlaxoSmithKline for the development and commercialization of the NY-ESO SPEAR T-cell program; and strategic alliance with MD Anderson Cancer Center for the development of T-cell therapies for various cancers.
Pick #2: Agenus (AGEN) – Healthcare / Biotechnology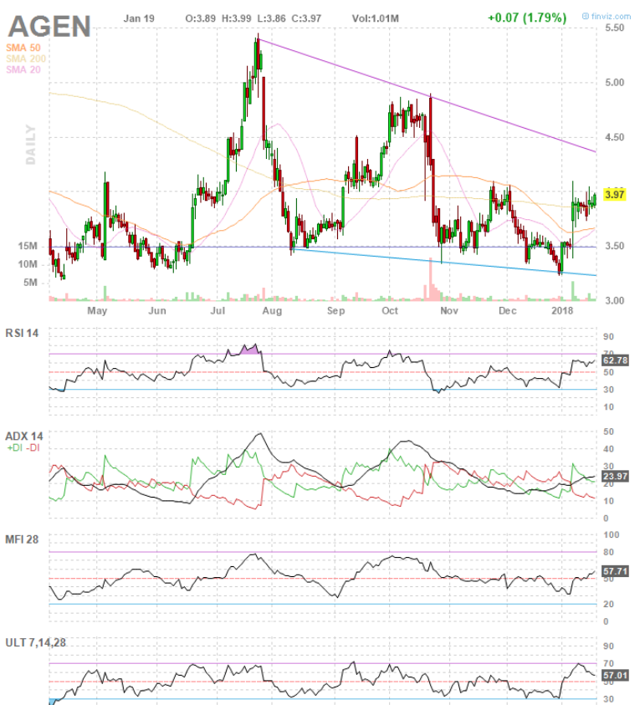 AGEN highlights:
1. Significantly positive signals in multiple technical breakout indicators
2. Institutional Ownership 45.90%
3. EPS Q/Q 21.10%
4. Analyst Target Price 11.00
Agenus Inc., a clinical-stage immuno-oncology company, focuses on the discovery and development of therapies that engage the body's immune system for patients suffering with cancer. The company offers Retrocyte Display, an antibody discovery platform for the identification of fully-human and humanized monoclonal antibodies; SECANT yeast display, an antibody discovery platform used for the generation of novel monoclonal antibodies; and phage display technologies. It is also developing checkpoint modulating antibody candidates targeting GITR, OX40, TIM-3, and LAG-3. In addition, the company develops vaccine programs, such as Prophage cancer vaccine candidate; AutoSynVax, a synthetic cancer vaccine program targeting the neo-epitope landscape in cancer patients; and PhosPhoSynVax, a vaccine candidate designed to induce immunity against a novel class of tumor specific neo-epitopes. Further, Agenus Inc. develops QS-21 Stimulon, a saponin-based vaccine adjuvant that has completed Phase III clinical trials for the treatment of malaria and shingles.
Additional Value and Momentum Portfolios include:
The new actively-traded V&M Premium Portfolio for 2018 began trading on Tuesday, January 2nd and is already up +5.17%. Stock selections for this 2018 portfolio are exclusive to subscribers and will be actively traded throughout the year.
Three of the five different portfolio categories were first offered in July of 2017. The Weekly Breakout Forecast was started in week 2 of 2017 with 40 weeks of breakout stock trading. The Breakout Forecast last year achieved 154 stocks with greater than 5% returns in a trading week and 79 stocks with greater than 10% returns in less than five days. Returns for each of the portfolios through yesterday are shown below, most have six months of performance results: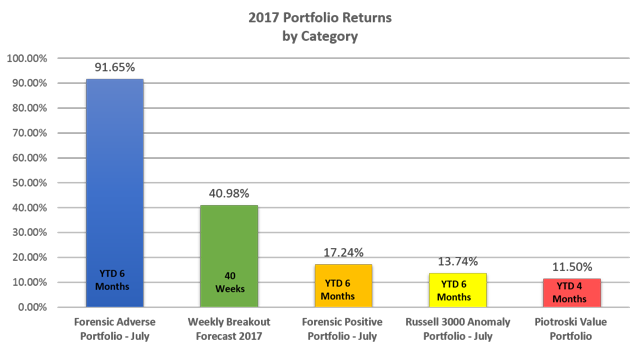 Additional articles on the different categories of portfolios and samples of research provided to subscribers are listed in my public research profile.
If you are interested in subscribing to any of the Value & Momentum Breakout portfolios offered you can visit my subscription page here. Otherwise please click the "Follow" button at the top of the page and enjoy free updates on the progress of each of the different portfolios I offer that are outperforming the S&P 500 in each of their respective time periods.
As always, I wish you the very best in all your investments!
JD Henning, PhD, MBA, CFE
Disclosure: I am/we are long KEM, AVEO, VTVT, VJET, XXII.
I wrote this article myself, and it expresses my own opinions. I am not receiving compensation for it (other than from Seeking Alpha). I have no business relationship with any company whose stock is mentioned in this article.
Editor's Note: This article covers one or more stocks trading at less than $1 per share and/or with less than a $100 million market cap. Please be aware of the risks associated with these stocks.
Related Posts: