Walgreens Boots Alliance (WBA) recently reported earnings, which I covered and predicted in Exposing Earnings. I predicted WBA would sell off on earnings, taking a short position and recommending my subscribers do the same. I urged my subscribers to take their profit at the end of the day, Jan 4, as my algorithms pointed to the gap filling: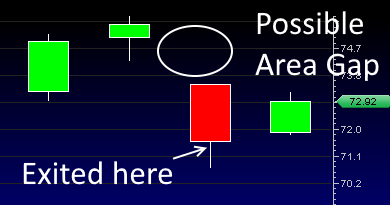 Just as WBA's earnings brought a down gap to the stock chart, questions came in about the gap – could it be played after earnings? That is both a technical and a fundamenta question. I wrote this article to address the fundamental side: Whether the earnings report was truly negative or whether the selloff was an overreaction (the technical side will be answered in my newsletter).
I will quickly spit out my fundamental conclusion, which is that the earnings report for WBA was truly bearish, though not as bearish as it was previously. If that sounds confusing, we best look into WBA's earnings call, which holds the only important information – that is, the only novel "news" that has been incorporated into the stock price. The earnings call has been shown a myriad or times and via myriad research means to have predictive power over the stock for roughly one month after the earnings report. An algorithm that I recently developed on the back of said research reads the earnings calls and withdraws from them sentiment scores and flagged comments that could help investors decide whether to interpret the call as bearish, bullish, or misaligned with the post-earnings stock reaction.
WBA fell on earnings, so we should expect a rather weak earnings call. The most recent earnings call, Q4, 2018, was quite weak but not as weak as the previous earnings calls. Recent earnings calls have been bearish for WBA, but the pattern is pointing a return to the average quite shortly.
Specifically, WBA's recent sentiment scores (excluding the most recent report) were 23% below average. Yet this quarter's brought a 17% gain in sentiment, nearly pulling WBA back to its baseline. Because of this, it is hard to claim the current earnings call was truly bearish, although the numbers technically would label it as such.
As sentiment score or tone is a rather generic term for earnings calls or other text-based analyses, it's important we dive into the data itself to understand the reason for low or high sentiment scores. Sentiment is built on many types of statements:
Surface statements: E.g., "We are building a defensive strategy against the coming headwinds."
Implied statements: E.g., "Instability is a matter of fact, but we are optimistic we will return to stability soon," which does not outright specify bearishness but does imply it.
Tertiary statements: E.g., "This was due to the fantastic team in our marketing division, and I cannot express my gratitude enough," showing two factors that have been positively linked to rising stock prices – emphasis on teamwork and politeness.
As a sentence-by-sentence review of the algorithm's scoring would defeat the purpose of using the algorithm, I instead will pull up some of the flagged statements. These marked sentences attributed to the overall sentiment score and have strong implications on what investors should be watching, going forward. Take a look:
"Both transactions (the GuoDa acquisition and Guangzhou Pharm sale) are, of course, subject to regulatory approval and customary closing conditions."
-A sweeping statement of uncertainty on the part of management that these two large – arguably largest – current events in the stock's news stream. Because the statement made was one of common sense, the fact that it was stated implies excess uncertainly on management's part. Uncertainly spoken in such press releases often spill into the market, causing risk-averse investors to reduce position sizes.
"GAAP operating income was $1.3 billion, down 8.6% versus the comparable quarter."
-Several bearish fundamental statements were made throughout this earnings call, decreasing the overall sentiment score.
"This quarter, GAAP operating income was adversely impacted by our share of AmerisourceBergen's litigation accrual as reported in their last quarter results and by the hurricane-related storm damage and store closures, which I highlighted back in October."
-Unexpected losses that cannot be controlled or compensated for. This is a net loss for the company and investors. Although it says little about the characteristics of the management or company, it still has an impact on the valuation of the company.
"As I say, you will be hearing more from us over time about all of these areas, but behind all of these is a recognition that our best opportunity to grow our business is also our best defense against new competition or changes in our marketplace."
-Mixed statements like these are weighted appropriately. Specifically, this is more bearish than bullish, as it not only mentions more potential problems than advantages. Market newcomers and a changing industry add to the headwinds of the company, increasing the perceived risk for the stock.
"And so other than sort of our normal anti-dilutive program that, obviously, is something that continues on an ongoing basis, we have no authorizations out at the moment for additional share repurchase programs."
-Repurchasing of shares by the company has undoubtedly led to a net upward drift – all things being equal – of the price of an individual share. That the company has ended the buyback program and has no intentions of beginning another should be taken as a highly bearish statement. The bearishness here is best understood as an analogy: Their boat is no longer floating downstream but in a stale pond, with no other streams in sight; the natural upward drift of the stock has been ceased indefinitely.
"…this big fluctuation and big depreciation has created an environment which was a little difficult to control. Now these things are coming back slowly into normality, and all the business will come back to normality."
-To only highlight the negative statements would be unfair. The earnings sentiment, as previously stated, was roughly average, meaning it had its share of positive statements. The positive statements, however, were more of the "returning to normal" ilk than they were of the growth ilk. Also, you can see implications of shirking responsibility (could currency issues not have been hedged?), blaming other markets or the macro economy, and far-out (not immediate – e.g., "slowly") optimism – all factors that count more as negative sentiment.
I hope this has given you a better feel of the novel information the earnings report and call has added to the market so that you understand the reasons behind the current price discovery swings. The result of my earnings sentiment analysis is a bearish one, but it also shows a relative improvement in this current phase of sub-optimal WBA. I leave you with a couple possible routes to continue the investigation, as both are relevant and could be useful, depending on your style of investing:
Is the up gap in CVS Health Corporation (CVS) that occurred simultaneously with WBA's down gap related to WBA's earnings report or mere coincidence? Is there a possible pair trade here?
Does the bearish earnings sentiment predict lower valuations for the stock? Or should we be optimistic about the bearishness weakening, disregarding the direction of the sentiment to instead emphasize the magnitude?
Note: All unlabeled figures were created by me. I used R to pull data directly from Yahoo and ADVN. Charts with blue backgrounds or options data are from Etrade Pro. Fundamental charts from a paid subscription at simplywall.st.
Note: As many have asked about the differences between my two services: Individual trade alerts (my personal trades) sent via Copy My Trades; urgent earnings trade alerts, top 5 monthly trades, and in-depth earnings predictions sent via Exposing Earnings.
In Exposing Earnings, our earnings trades have been tremendously successful. This is not luck but statistical predictions based on quantitative modeling methods not available to the general public, and I want to make those methods available to you. The good news is that you only have to commit to one month in our group (although many choose the year-long subscription outright), so you can take a look at my past predictions and performance.
I believe the most successful earnings trades are those created via expected values, not simple probabilities. I have always emphasized the beauty of expected values in trading; you can't just take the high probability plays because those obvious winners typically offer little in terms of reward. I have confirmed this concept as profitable in my own account, in which I only plays earnings if the payoff is large enough versus the risk involved.
Don't forget to see our live chat room so that you can discuss your plays with other traders. See me inside, request an earnings trade report, and see how expected values make money by highlighting trades with high payoffs and/or high probabilities.
Get access today and start trading earnings scientifically.
Disclosure: I am/we are short WBA.
I wrote this article myself, and it expresses my own opinions. I am not receiving compensation for it (other than from Seeking Alpha). I have no business relationship with any company whose stock is mentioned in this article.
Related Posts: