Yesterday on Seeking Alpha I decided to commence a series of Halloween-themed articles and provide you with 5 blue-chip RETI treats. That's right, these 5 REITs are considered everlasting gobstoppers because they are long-lasting dividends.
Today, I want to introduce some "screamingly" good REIT buys – in fact, what I call "Strong Buys"… not all of them are Blue Chips, but each one has the chance to over-deliver in terms of dividends plus price appreciation (our STRONG BUY picks are forecasted to deliver annualized returns of 25% or higher).
You might think of these as temporary fallen angels, with quite timely, and extraordinary, pricing opportunities. I can't wait to share this bunch with you… in a moment.
Let me perfectly blunt: Now is a great time to be hunting for high-quality REITs on sale. It's like returning from a night of trick or treating and getting a bucket filled up with delicious mouth-watering treats.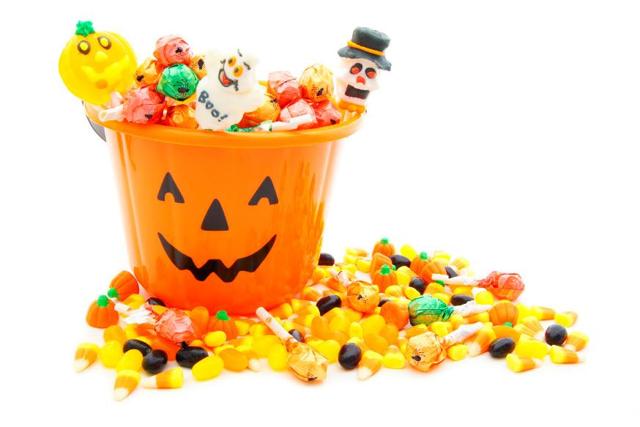 U.S. real estate fundamentals are strong, and as Cohen & Steers explains, "the big stories today are 90 consecutive months of job growth, an 18-year low in unemployment and a strengthening economy, giving landlords greater ability to raise rents. When rents are rising, history shows that REITs can deliver strong returns – despite higher interest rates."
The perception that REITs underperform when interest rates are rising is simply not supported by historical data. As we have seen this year, higher rates may unsettle markets in the short term, but what tends to matter more for REITs in the long run is the direction of the economy and job growth. Historically, REITs have had strong returns in periods of monetary tightening and rising bond yields, as this is usually a reflection of accelerating inflation and economic growth.
The chart below shows annualized returns of the U.S. REIT market since 1981, grouped according to changes in the 10-year Treasury yield and U.S. Leading Economic Indicators over one-month periods. In months when growth was improving and bond yields were rising, REITs outperformed the S&P 500, averaging 12.5% – consistent with their long-term buy-and-hold return (Source: Cohen & Steers).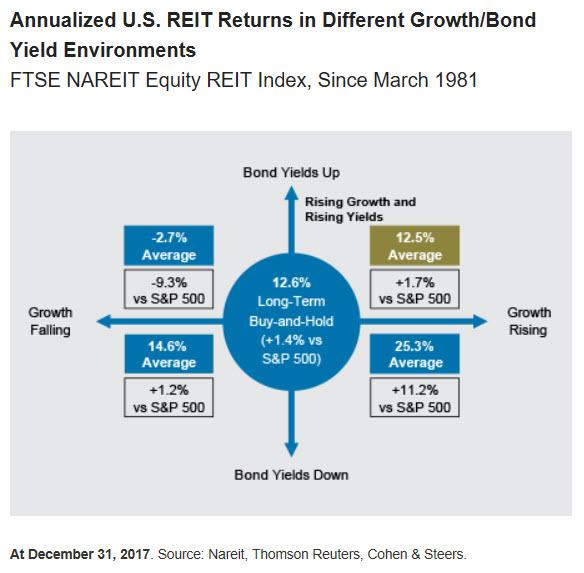 During the last rising rate cycle, in March 2004, a strong jobs report caused a spike in Treasury yields, causing REITs to sell off and lag the S&P 500 over the next month. As markets digested the data and volatility subsided, REITs recovered. Over the next two years, the Federal Reserve raised interest rates 17 times, from 1.0% to 5.25%. From the 10-year Treasury yield low in March 2004 through the end of 2006, REITs had a cumulative return of 78%, widely outperforming U.S. stocks and bonds.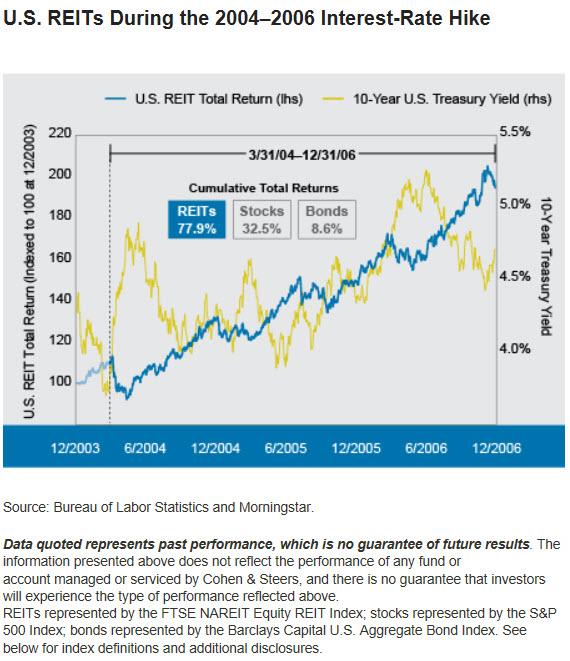 As Cohen & Steers explains, "Too often, we see investors focusing on short-term changes in interest rates, yet losing sight of the bigger picture. As investors adjust asset allocations for the shifting market environment, we believe REITs offer attractive characteristics".
Now ladies and gentlemen, boys and girls, now is not the time to get spooked, and we are suggesting that this Halloween provides investors with the perfect backdrop to allocate capital to the REIT sector. I know you came here for some candy "of sorts" so let's get this party started… (Note: We will provide 10 of these top STRONG BUYs for marketplace subscribers…5 are listed below).
Some "Screamingly" Strong Buy REITs
Screaming Buy #1: Tanger Factory Outlet (SKT)
The Big Why: Tanger has a broader range of brands and the retailers have recognized that outlets are a key distribution channel in which behavior is influenced by branding. In order to attract customers, Tanger has invested in new amenities and restaurants to identify the outlet as a destination experience.
Feather in its Cap: Outlets are an effective tool to lure entry-level, budget-wise customers and over the years Tanger has become a highly effective partner – more than a landlord – to the best-in-class brands. For strategic reasons, most retailers do not break out data on sales for outlets, but the demand for outlet space is underscored by the overall profitability of operation.
Downsides: Although the retail industry has been struggling with store closures, outlets are the most profitable legs to the omnichannel, and occupancy cost ratios for tenants are typically much lower than at full price malls and shopping centers.
S&P Rating: BBB+
Alpha Insider Management Update: On an NOI weighted basis, average sales productivity for Tanger was $409 per square foot for the 2018 period, up 1.5% from $403 for the 2017 period. Same-center tenant sales performance for the overall portfolio increased 1% for the 12 months ended June 30, 2018, compared to the 12 months ended June 30, 2017.
Bottom Line: The company has always maintained strict discipline and today the balance sheet is in the best shape ever – 94% of square footage in the consolidated portfolio is not encumbered by mortgages. Tanger's Q3-18 earnings call is on November 2nd at 8:30 am ET. We are maintaining a STRONG BUY.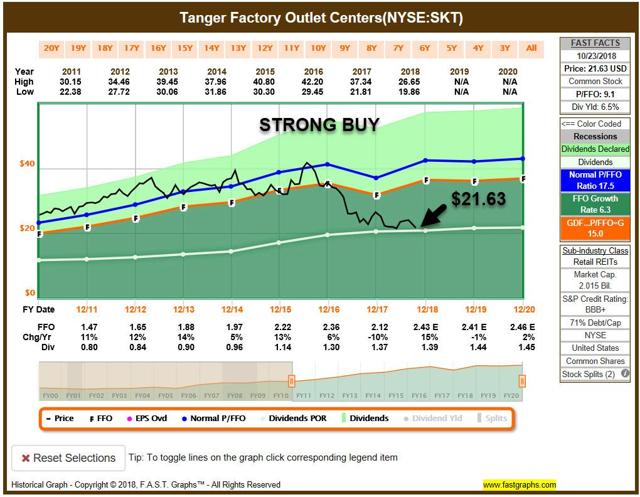 Screaming Buy #2: Kimco Realty (KIM)
The Big Why: Kimco's balance sheet and liquidity position are in excellent shape. The company ended Q2-18 with over $300 million in cash, zero outstanding on the $2.25 billion revolving credit facility, and no debt maturing for the balance of the year.
Feather in its Cap: Kimco's leasing volume continues to be near all-time highs. During the latest quarter, the company executed 369 leases, totaling 2 million square feet and an average rent per square foot of just over $18. The average base rent for the entire portfolio has increased 4.6% over the past year and 5.2% when you exclude ground leases.
Downsides: Sears (SHLD) overhang and possible closures related to Mattress Firm. Also, Bed, Bath & Beyond (NASDAQ:BBBY) could be next shoe to drop.
S&P Rating: BBB+
Alpha Insider Management Update: Kimco has around $800 million of redevelopment projects underway that are expected to generate around $50 million of net operating income (or NOI). The sites are substantially pre-leased, creating positive leasing momentum for these rare high-quality opportunities, which are poised to deliver on time.
Bottom Line: Kimco has made substantial progress with its balance sheet, and it's clear that the company is laser-focused on maintaining strict discipline in hopes of becoming an A-rated REIT. The company's cost of capital should prove to be a powerful differentiator over the next few years. Kimco reports earnings today, and we suspect the company will have positive news. We are maintaining a STRONG BUY.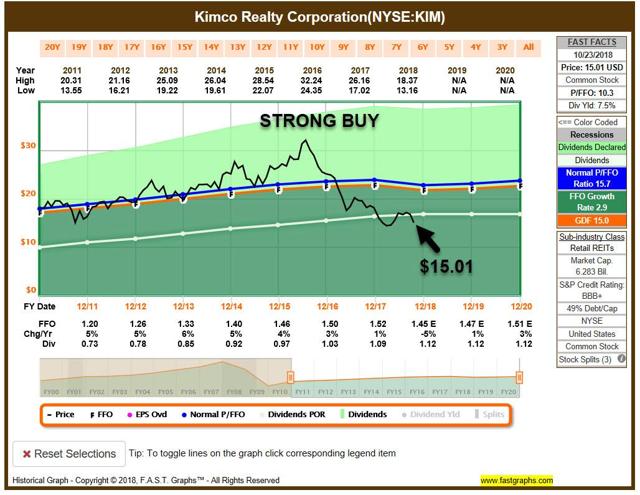 Screaming Buy #3: Iron Mountain (IRM)
The Big Why: Iron Mountain customers' storage needs are largely unaffected by interest rate movements, and the company's core storage NOI doesn't change with the value of the underlying real estate. In a rising rate environment, this structure reduces Iron Mountain's exposure to real estate value fluctuations compared with REITs that own their entire portfolios. Additionally, it should be noted that the company enjoys higher levels of real price increases during periods of more inflation.
Feather in its Cap: There is really no direct peer as Iron Mountain is an industry leader in storage and information management services, serving 230,000 customers in 53 countries on six continents (with over 24,000 employees worldwide). The company serves organizations in every major industry and of all sizes, including more than 95% of the Fortune 1000, which rely on Iron Mountain as their information management partner.
Downsides: Iron Mountain's current leverage ratio is comfortably in line with other REITs, especially when considering that the business is more durable than many other REIT sectors. However, IRM is rated BB- by S&P (as noted below).
S&P Rating: BB-
Alpha Insider Management Update: Iron Mountain's AFFO was $451 million for the first half of the year, up $63 million, or more than 16% over the prior year, and trending towards the upper end of guidance for 2018. The company's increasing exposure to high growth data center markets will continue to provide powerful secular tailwinds. Since becoming a REIT, Iron Mountain has generated steady and reliable dividend growth (averaging 5-6% CAGR since 2015) and the dividend is well-covered by AFFO (adjusted funds from operations).
Bottom Line: Iron Mountain continues to be a standout as a high-yielding investment which continues to grow AFFO and EBITDA in the mid to upper single digits, fueling continuing dividend growth. Iron Mountain yields 6.8% and is perhaps one of the highest yielding companies included in the S&P 500. We maintain a STRONG BUY. IRM is set to publish earnings on October 25th when the market opens.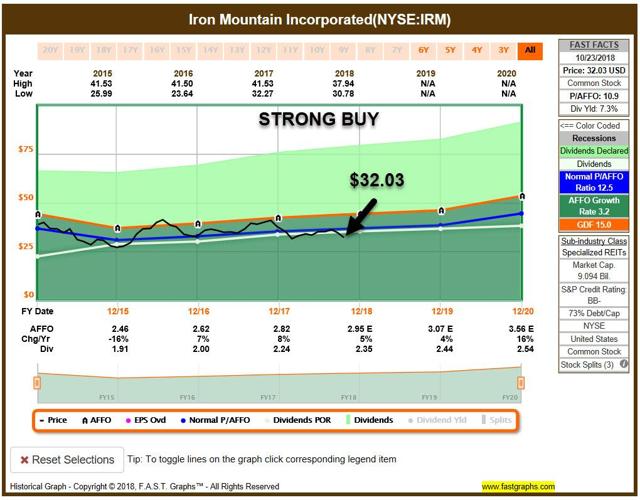 Screaming Buy #4: Monmouth Real Estate (MNR)
The Big Why: Global consumer habits continue to change resulting in ever greater market share taking place online. Global e-commerce sales are expected to rise to $2.4 trillion this year. Trends driving strong demand for warehouse space – primarily the growth of e-commerce and an expanding manufacturing sector – continue to drive low availability of space and encourage developers to build more.
Feather in its Cap: MNR has substantial exposure to the East Coast, and that's another important characteristic since the company should benefit from the Panama Canal expansion that was completed in the first half of 2016. Each of MNR's FedEx (NYSE:FDX) locations has become a highly coveted foothold for large businesses. Major retailers are drawn to FedEx locations, so they can get their goods delivered to their customers as fast as possible.
Downsides: Exposure to FDX, but the leases with MNR are well-laddered.
S&P Rating: NA
Alpha Insider Management Update: Monmouth's acquisition pipeline contains 1.1 million square feet, representing $221.4 million, comprised of four acquisitions scheduled to close over the next several quarters. MNR continues to be conservatively capitalized, with net debt to total market capitalization at 33%, and net debt plus preferred equity to total market capitalization at 45% at quarter-end.
Bottom Line: MNR has maintained or increased its common stock dividend for 26 consecutive years, and also increased AFFO per share by 16% over the prior-year quarter and by 18% year over year for the nine-month period. The company is forecasted to grow FFO/share by double digits in 2018-2020. There aren't many REITs that can move the needle by double digits unless you are in the cell tower or data center sector. We maintain a STRONG BUY.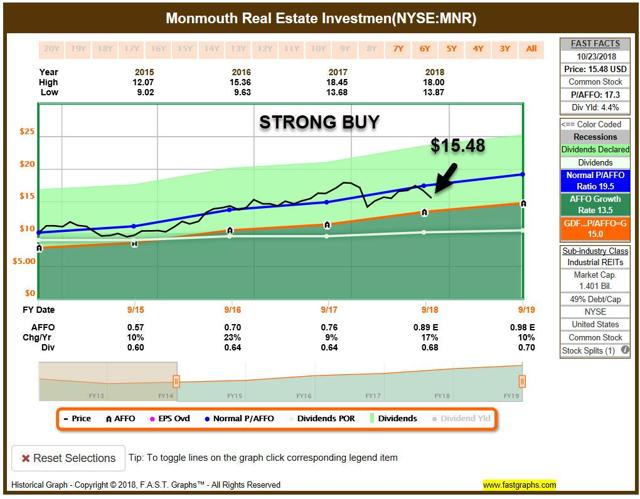 Screaming Buy #5: UMH Properties (UMH)
The Big Why: It has taken a while for the broader market to come to appreciate the tremendous growth characteristics in the manufactured housing industry that fundamental characteristics of high consumer demand and constricted supply result in a steady cash flow with opportunity for continued growth.
Feather in its Cap: UMH has been able to successfully expand its business by acquiring communities that are adversely impacted by economic, demographic and regulatory factors. The improvements made to these communities combined with the increased demand have resulted in increased occupancy and income significantly adding value to UMH's portfolio. As household formation strengthens and for-sale inventory remains limited, a large share of housing demand will be looking at alternative forms of housing.
Downsides: UMH is a small-cap REIT and the company is not as diversified geographically as the peers. Also, UMH invests in securities (including the sister company, MNR).
S&P Rating: NA
Alpha Insider Management Update: UMH has strong growth prospects, and the stable cash flows provide us with clarity as it relates to the company's total return prospects. The company is forecasted to grow FFO/share by double digits in 2018 and 2019.
Bottom Line: UMH delivered solid financial results in the latest quarter, increasing rental income by 12% and community NOI by 16% year-over-year. Since 2010, UMH has tripled the size of its portfolio from 6,800 developed homesites to 20,600 developed homesites today. We maintain a STRONG BUY.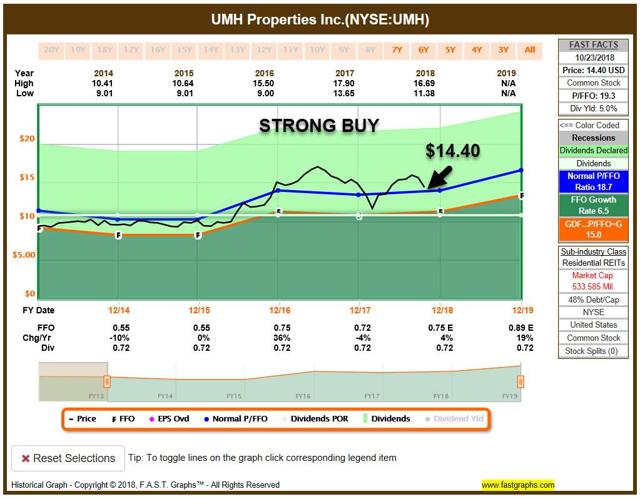 In closing: Don't be spooked this Halloween! While REIT shares have been volatile year-to-date, the fundamentals have remained strong. By paying close attention to underlying fundamentals, we believe that intelligent investors can take advantage of the pullback by building a basket of REIT treats to help you "sleep well at night".
But remember, my final Halloween article will be spooky, as I plan to unleash the ghostly sucker yields. These STRONG SELL REITs appear to be tasty on the surface, but when you peel back the onion, you will soon see that they are sour…reminding you of what Charlie Brown got when he wet trick or treating…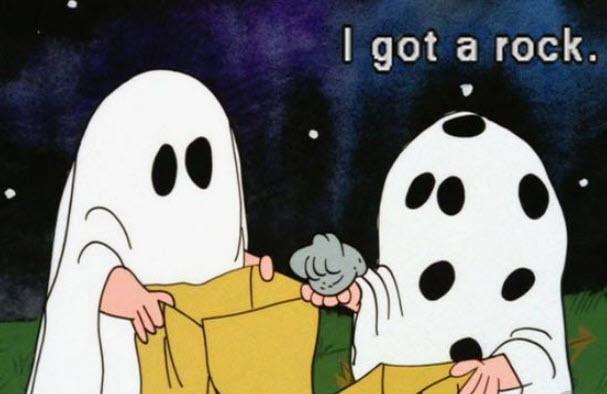 Author's note: Brad Thomas is a Wall Street writer and that means he is not always right with his predictions or recommendations. That also applies to his grammar. Please excuse any typos and be assured that he will do his best to correct any errors, if they are overlooked.
Finally, this article is free, and the sole purpose for writing it is to assist with research, while also providing a forum for second-level thinking.
Source: F.A.S.T. Graphs and Cohen & Steers
Brad Thomas is one of the most read authors on Seeking Alpha, and over the years, he has developed a trusted brand in the REIT sector. His articles generate significant traffic (around 500,000 views monthly) and he has thousands of satisfied customers who rely on his expertise.
Marketplace subscribers have access to a growing list of services, including weekly property sector updates and weekly recommendations. Also, we are now providing daily early morning REIT recaps, including breaking news across the entire REIT universe.
For new subscribers we will include a free signed copy of The Intelligent REIT Investor. Act now!
Disclosure: I am/we are long (77) ACC, APLE, AVB, BHR, BPY, BRX, BXMT, CCI, CIO, CLDT, CONE, CORR, CTRE, CXP, CUBE, DEA, DLR, DOC, EPR, EQIX, ESS, EXR, FRT, GDS, GEO, GMRE, GPT, HASI, HT, HTA, INN, IRET, IRM, JCAP, KIM, KREF, KRG, LADR, LAND, LMRK, LTC, MNR, MPW, NNN, NXRT, O, OFC, OHI, OUT, PEB, PEI, PK, PSB, PTTTS, QTS, REG, RHP, RLJ, ROIC, SBRA, SKT, SPG, SRC, STAG, STOR, TCO, TRTX, UBA, UMH, UNIT, VER, VICI, VNO, VNQ, VTR, WPC.
I wrote this article myself, and it expresses my own opinions. I am not receiving compensation for it (other than from Seeking Alpha). I have no business relationship with any company whose stock is mentioned in this article.
Related Posts: