This idea was discussed in more depth with members of my private investing community, REIT Beat. Become a member today
Last week, fellow Seeking Alpha contributor Dane Bowler wrote an article titled "UMH Properties: Our Top REIT Pick Heading Into 2018." I want to commend Dane for the excellent research, and it is because of his work that I decided to double down. Dane wrote:
"There are plenty of other industries where we have seen strong demand not translate into growth for the associated REITs… we think UMH is well positioned to reap the benefits of growing demand. 3 things are working in its favor: (1) Location, (2) Barriers to entry, and (3) Built-in expansion."
Specifically, I decided to increase my stake in UMH Properties (NYSEMKT:UMH) because of the continued growth being generated within a sub-sector of housing that I find most attractive.
Warren Buffett was smart to buy a maker of manufactured homes in 2003, when Clayton Homes was acquired by Berkshire Hathaway Inc. in 2003 for $1.7 billion. Clayton Homes builds nearly half the new manufactured homes sold in this country every year and sells them through its more than 300 retail lots and through independent dealers. The company finances more mobile home loans than any other lender by a factor of more than seven.
With tax reform now a "done deal," every income group should see a tax cut, and the manufactured housing REITs are well positioned to participate in the ongoing recovery of the US housing market.
Annual housing demand is estimated at 1.7 million new needed units. This is composed of 1.2 million new family formations a year. Replacement of obsolete homes requires 325,000 new units per year. The second home market requires 175,000 new units a year.
The difference between annual demand and annual supply is estimated at 500,000 needed units. There is a shortage of affordable housing, and the shortage grows larger each year. As evidenced below, the manufactured housing sector is well positioned to participate in the ongoing recovery of the US housing market: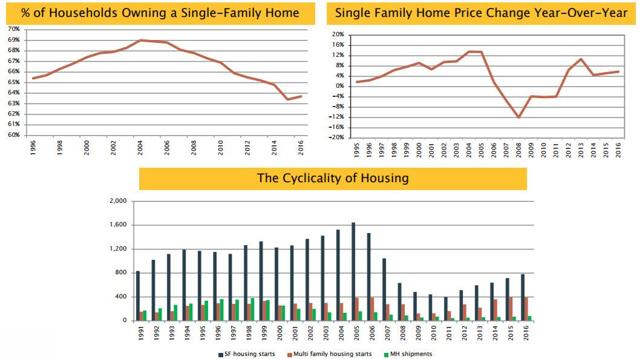 (Source: UMH Investor Presentation)
On the manufactured housing side, the strong and stable cash flow characteristics of community ownership have made the radar screens of some of the leading sovereign wealth funds and financial investment firms. These institutional investors place a premium on investments that can provide a reliable income stream for their pensioners, partners and investors.
It has taken a while for the broader market to come to appreciate the tremendous growth characteristics in the manufactured housing industry, that fundamental characteristics of high consumer demand and constricted supply result in a steady cash flow with opportunity for continued growth.
Wouldn't it be interesting for Warren Buffett to also invest in the sector? Who knows – the last time I upgraded STORE Capital (NYSE:STOR) to a STRONG BUY, Berkshire Hathaway jumped on the dividend train.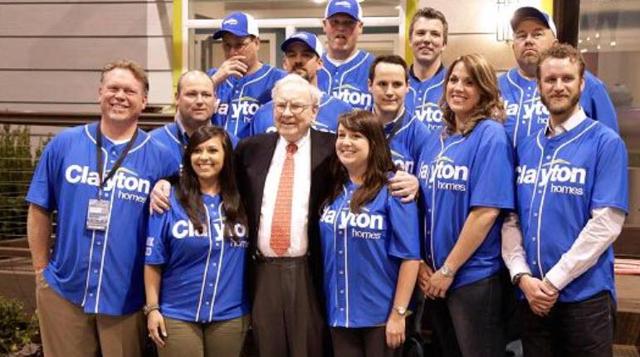 UMH Properties Flying Under The Radar
UMH Properties commenced operations in 1968, and the company has been operating as a REIT since 1985. As of the latest quarter, UMH owns a portfolio consisting of 107 manufactured home communities containing 19,400 developed sites located in New Jersey, New York, Ohio, Pennsylvania, Tennessee, Indiana and Michigan.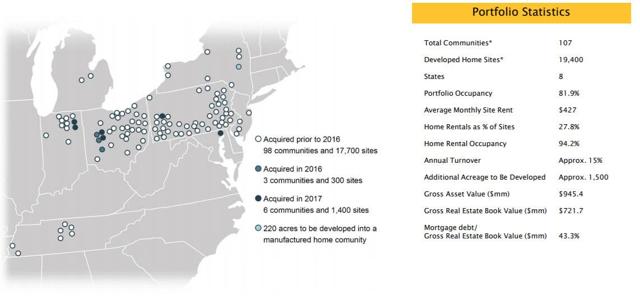 The REIT rents homes to residents and currently has over 5,300 rental units. The increased demand for property type has resulted in continued cap rate compression.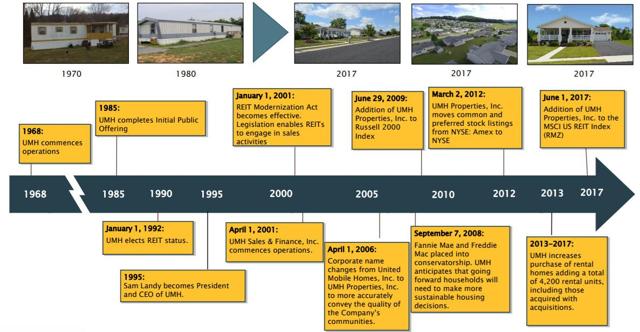 UMH has continued to execute its growth strategy by purchasing well-located communities in target markets including the energy-rich Marcellus and Utica Shale regions. With 5,300 acres in existing communities, it benefits from having 3,100 acres in the Marcellus and Utica.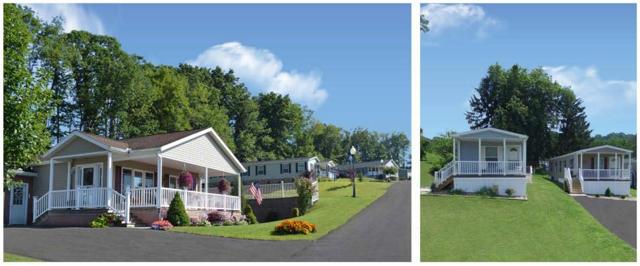 UMH has expanded recently into a number of existing communities. Over the first three quarters of 2017, the company has added an additional 690 homes to its rental inventory. At Q3-17, UMH owned approximately 5,300 rental homes, representing 28% of total home sites, versus 4,400 rental homes at the end of the prior-year period, representing a 20% increase in rental homes.
Over the past seven years, it has almost tripled in size, from 6,800 developed home sites to 19,400 developed home sites. The company has accumulated an excellent portfolio of manufactured home communities that has added substantial value to the portfolio.
During this time, UMH has grown its total market capitalization 6x, from $191 million to $1.1 billion, while decreasing net debt-to-total market capitalization from 44% to 30%. Here's how UMH compares to its peers: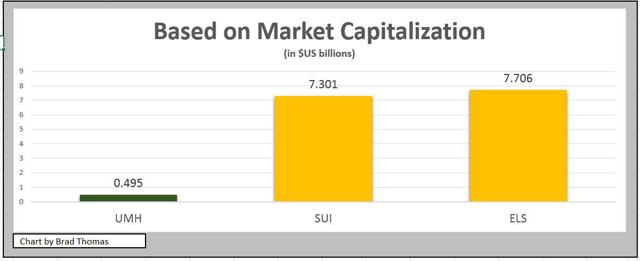 The Little Engine That Could
During Q2-17, the company completed the acquisition of five communities containing approximately 1,300 developed homesites situated on 382 acres, for an aggregate purchase price of approximately $36.5 million. The weighted average occupancy of these communities was 63%.
The primary driver of UMH's occupancy growth and performance is the rental home program. The demand for rental homes continues to be strong demonstrated by a rental home occupancy of 93.5%. This demand is driven by the need for affordable workforce housing in key targeted geographic areas. UMH seeks to provide quality housing at the lowest cost in any given markets. Here's a snapshot of the total portfolio occupancy: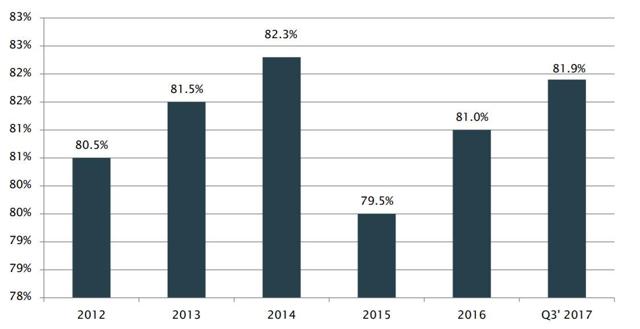 An expanding economy, low unemployment and rising incomes continue to spur household formation. UMH has been experiencing a fundamental shift in housing dynamics, as more people are choosing to rent instead of to own. The US home ownership rate was at 63.9% in the third quarter of 2017, down from the all-time high of 69.2% reached in 2004.
Occupied rental homes now represent 32% of total occupied sites, as compared to 28.8% of total occupied sites at the end of the prior-year period.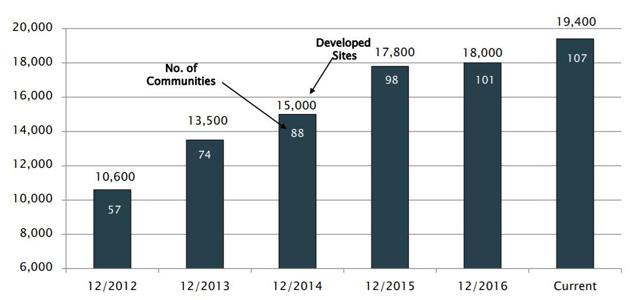 UMH's same-property results have continued to improve, substantially increasing the value of the communities. Following the positive results achieved in the first two quarters, same-property occupancy increased by 271 sites, representing a 170 bps increase over the prior-year period.
Year over year, same-property revenue increased 5%. Same-property expenses increased 7.8% due to real estate tax increases which occurred in the fourth quarter of 2016.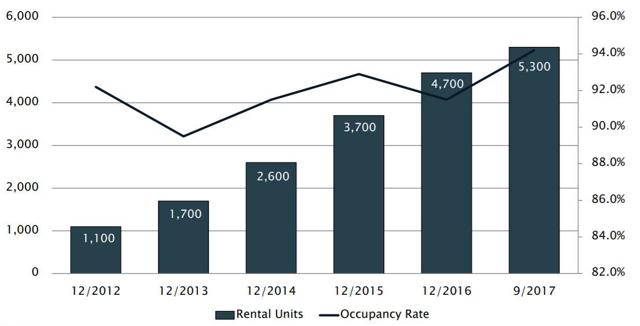 UMH's communities in the energy-rich Marcellus and Utica Shale regions remain strong. Additional power plants and pipeline projects are being built, which is expanding the customer base and allowing more gas to come on-line. These developments will spur the continued growth in the local economies in these regions.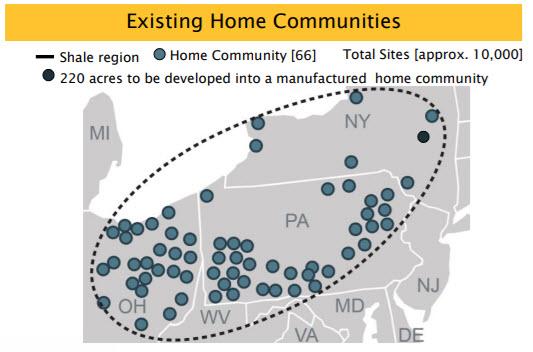 The Improving Balance Sheet
At the end of Q3-17, UMH's balance sheet consisted of approximately $354 million in debt, of which $313 million was community-level mortgage debt, at a weighted average interest rate of 4.4%, and $41 million were loans payable at a weighted average interest rate of 2.7%.
Around 90% of total debt is fixed-rate, and the weighted average interest rate on the total debt was 4.2%, compared to 4.3% in the prior-year period.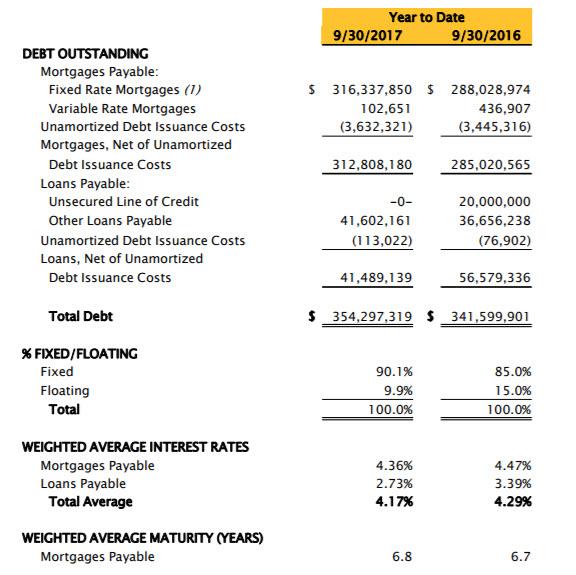 At quarter end, UMH had a total of $239 million in perpetual preferred equity, including the 5,750,000 shares of 6.75% Series C cumulative redeemable preferred stock issued recently. The preferred stock, combined with an equity market capitalization of $539 million and $354 million in debt, results in a total market capitalization of approximately $1.1 billion at quarter end, representing a 31% increase year over year.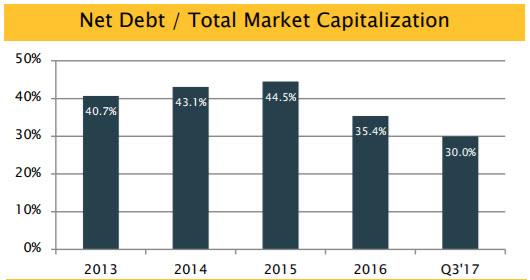 From a credit standpoint, UMH continues to be conservatively capitalized, with net debt-to-total market capitalization at 30% and net debt plus securities-to-total market capitalization at 18%. Its fixed charge coverage was 1.7x. The company's net debt-to-EBITDA was 6.1x, and the net debt less securities-to-EBITDA was 3.7x.
From a liquidity standpoint, UMH ended the quarter with $15 million in cash and cash equivalent and $132 million in the securities portfolio, encumbered by $31 million in margin loans.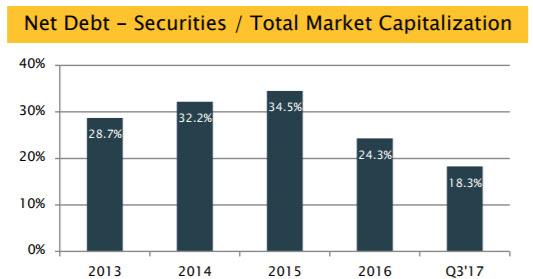 I have never been a fan of UMH utilizing the securities portfolio; however, the portfolio delivered strong results in Q3-17, growing from $109 million at year end to $132 million at quarter end, representing 14% of growth asset value at quarter end.
The REIT securities portfolio provides UMH with additional liquidity, diversification and additional income. In addition to the $2.1 million in dividend income earned during the quarter, the company generated $467,000 in realized gains. For the nine months, it had $5.7 million in dividend income and generated $1.5 million in realized gains. The company ended the quarter with an unrealized gain of $12.8 million.
UMH has no outstanding balance on its $50 million credit facility, which has an additional $75 million potentially available, pursuant to an accordion feature. It also has $34 million available on its revolving line of credit for the financing of home sales and the purchase of inventory.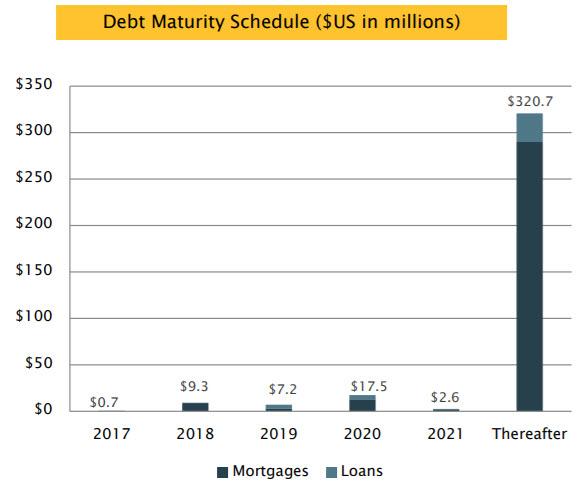 The Latest Earnings Results
In Q3-17, UMH's core funds from operations (core FFO) was $5.3 million, or $0.15 per diluted share, compared to $5.3 million, or $0.19 per diluted share for the prior-year period.
Normalized FFO, which excludes realized gains on the sale of securities and other non-recurring items, was $4.9 million, or $0.14 per diluted share for Q3-17, compared to $4.5 million, or $0.16 per diluted share for the prior-year period.
Normalized FFO was $15.4 million, or $0.48 per diluted share for the nine months, compared to $13.1 million, or $0.48 per diluted share a year ago. As of Q3-17, UMH had not yet fully deployed the additional proceeds from the recent preferred offering, which temporarily impacted the per share metrics. Normalized FFO decreased 12.5% on a per share basis due to the impact of the undeployed new capital.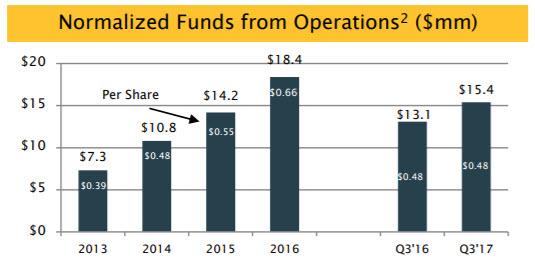 Rental and related income for the quarter was $25.9 million, compared to $23.1 million a year ago, representing an increase of 12%, primarily due to community acquisitions, the addition of rental homes and the growth in occupancy.
Community NOI increased by 9% for the quarter, from $12.4 million in 2016 to $13.5 million in 2017. Community operating expenses for the quarter were 47.6% of rental and related income, compared to 46.4% for the prior-year period. There was an increase in real estate taxes, which occurred in the fourth quarter of 2016.
UMH said it had "a robust acquisition pipeline of approximately $80 million and anticipate completing the acquisition of a number of communities in early 2018."
It has been positioning itself for an excellent 2018. The company's income growth and overall operating metrics remain on target: Rental and related income increased 12%, sales of manufactured homes increased 26%, community net operating income increased 9% and same-property occupancy increased 170 bps.
Here's a snapshot of our FFO/share forecaster (powered by F.A.S.T. Graphs):

Buffett Should Buy This REIT
Now let's examine the valuation metrics, starting with dividend yield: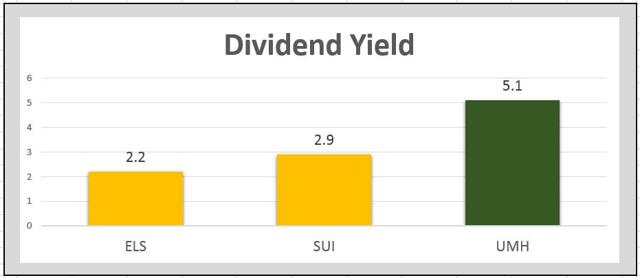 We know that UMH is the highest-paying REIT in the sector, but how safe is its dividend? The 2017 FFO payout ratio is shown below: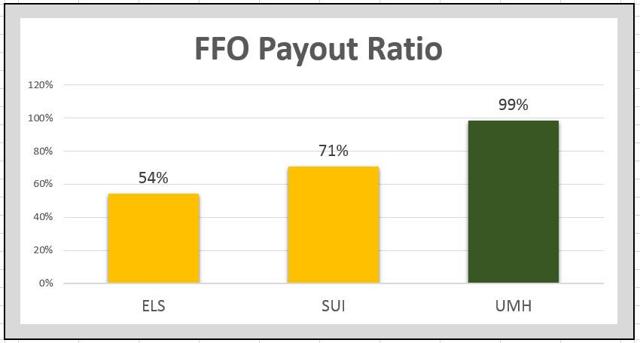 Not good, but let's examine the 2018 forecasts: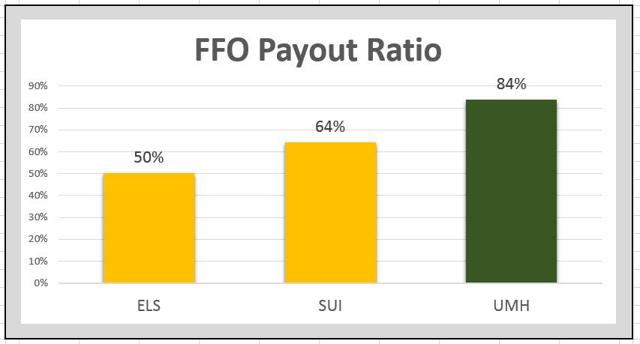 (Source: F.A.S.T. Graphs)
Now let's look at the 2019 forecasts: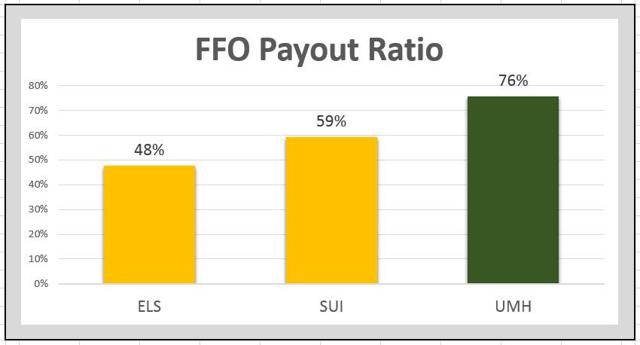 (Source: F.A.S.T. Graphs)
I know Dane would not have recommended his top conviction for 2018 if it were a "sucker yield." Dane wrote:
"… revenue growth has been strongest in the rust belt states with Michigan, Indiana, and Ohio coming in at 13%, 10%, and 10% respectively. We think the demand for these properties will continue and there is plenty of room to run with occupancy still at just 83%."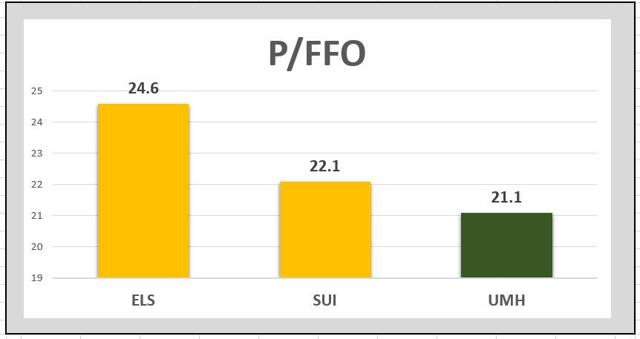 As you can see, UMH traded at 21.1x P/FFO, and Dane Bowler provided the following NAV model:
"This implies an NAV per share of roughly $21-$25. With a current price just under $15, UMH is way below NAV and deeply below the multiple that would be commensurate with its growth. At $22 per share, UMH would trade at 25.5X 2018 estimated FFO and near the low end of our calculated NAV range. We consider $22 to be the fair value."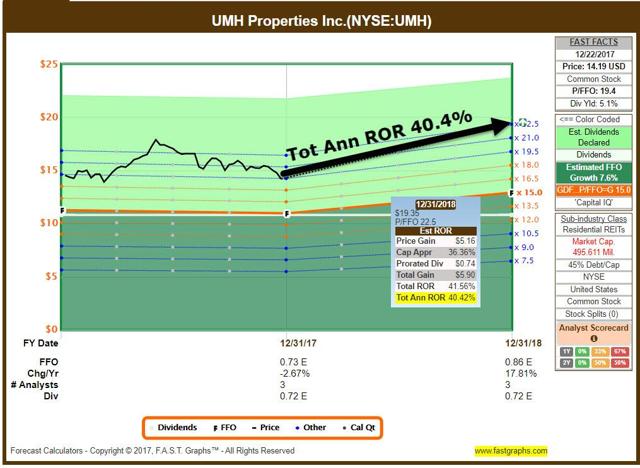 Before you hammer me, I know Buffett does not generally buy REITs. To the best of my knowledge, he has owned Tanger Factory Outlet Centers (NYSE:SKT) and Seritage Growth Properties (NYSE:SRG) and his company has owned General Growth Properties (NYSE:GGP) and STORE Capital. So why would he buy shares in UMH?
"Never invest in a business you cannot understand."
Warren Buffett knows the manufactured housing business, literally from the ground up. By owning shares in UMH he could easily extrapolate his knowledge of Clayton Homes and become fully integrated. Buffett also knows that "whether we're talking about socks or stocks, I like buying quality merchandise when it is marked down."
Special thanks to Dane Bowler. See my other articles on UMH here and here.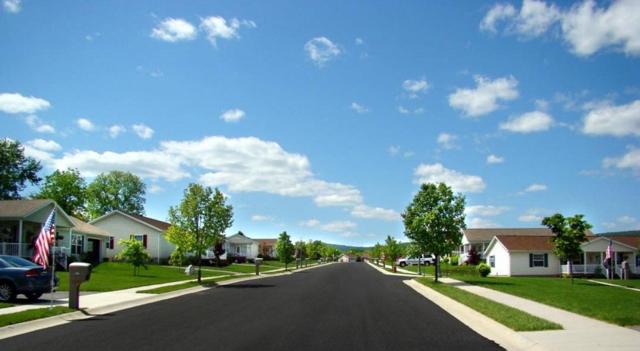 Note: Brad Thomas is a Wall Street writer, and that means he is not always right with his predictions or recommendations. That also applies to his grammar. Please excuse any typos, and be assured that he will do his best to correct any errors, if they are overlooked.
Finally, this article is free, and the sole purpose for writing it is to assist with research, while also providing a forum for second-level thinking. If you have not followed him, please take five seconds and click his name above (top of the page).
Source: F.A.S.T. Graphs and UMH Investor Presentation.
Other REITs: Equity Lifestyle Properties (NYSE:ELS) and Sun Communities (NYSE:SUI).

The Intelligent REIT Investor is the #1 REIT Research site. We publish exclusive content on over 100 REITs, and our Durable Income Portfolio has returned over 12% YTD. We recently announced that the Small Cap REIT Portfolio has returned over 20% YTD. There is absolutely no reason to chase yield… let us do all of the heavy-lifting so you can "sleep well at night."
Subscribe Today
Disclosure: I am/we are long APTS, ARI, BRX, BXMT, CCI, CHCT, CIO, CLDT, CONE, CORR, CUBE, DDR, DLR, DOC, EPR, EXR, FPI, FRT, GMRE, GPT, HASI, HTA, IRET, IRM, JCAP, KIM, LADR, LAND, LMRK, LTC, MNR, NXRT, O, OHI, OUT, PEB, PEI, PK, QTS, REG, RHP, ROIC, SKT, SPG, STAG, STOR, STWD, TCO, UBA, UMH, UNIT, VER, VTR, WPC.
I wrote this article myself, and it expresses my own opinions. I am not receiving compensation for it (other than from Seeking Alpha). I have no business relationship with any company whose stock is mentioned in this article.
Related Posts: